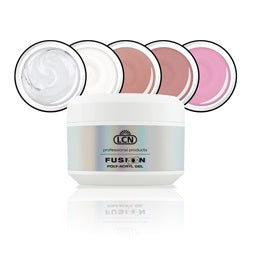 LCN
LCN Fusion Poly-Acryl Gel
The perfect combination of acrylic & gel. The Fusion poly-acrylic gel is as flexible as gel and yet stable like acrylic. The perfectly modeled consistency prevents bleeding in the nail edge without premature curing. The quick and easy processing is not only fun, but is also completely odorless. With the LCN Fusion poly-acrylic gel liquid the Fusion poly-acrylic gel can be optimally shaped. The innovative system combines the advantages of the two systems gel and acrylic.
The advantages: • simple and time-saving application (no mixing with a liquid needed) • odorless • easy processing without bleeding (no matter how fast or long you need) • Anti-yellowing formula • very good adhesion properties • no heat development • acid and monomer free • pinchbar • good file properties • stable thanks to the acrylic content and flexible thanks to the gel base • very natural feel • compatible with the LED and UV tube unit • suitable for beginners and advanced
Application:
1. Prepare nails as usual
2. Degrease nails with the LCN Nail Prep (Art.-No .: 21071)
3. Apply as adhesion promoter the LCN Ultima Acrylics Bond (Art. No .: 20587) and allow to air dry (2 min.)
4. Take the desired amount of the Fusion Poly-Acrylic Gel with the LCN Tool (Art.-No .: 21285) and wipe it onto the nail plate
5. Model the product in the form of a wetted brush in Fusion Form Liquid (Protech Brush 1 Art.-No .: 21028)
6. Cure and nails with the LCN Zebra File 180/180 (Item No .: 30206) in shape
7. Seal with an LCN sealing gel of your choice (eg High Shine Sealer Art.-No .: 21388) and polish to a high gloss with the Super Shine Finish Cleaner (Art.-Nr .: 64135)
8. Curing: LED: 90 -120 sec. Depending on lamp type and layer thickness UV tube: 2 min.
---
More from this collection