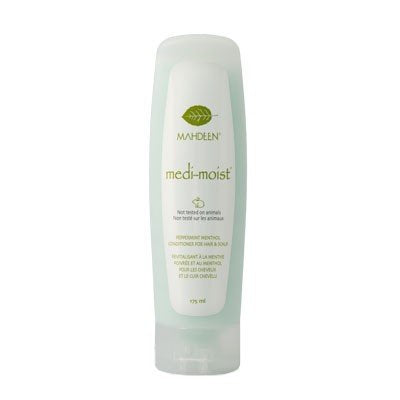 Mahdeen
Mahdeen Medi-Moist Conditioner 175ml
Sale price
$10.99 CAD
Regular price
$14.95 CAD
Mahdeen Medi-Moist Hair and Scalp Moisturizer
Unique dermatological formula to moisturize and condition hair and scalp.  Stimulates and controls itchy or oily scalp. You can feel the action! Dandruff Control.
This special water based formula features a unique dual action to treat both hair and scalp. Mahdeens Medi-Moist conditions the hair, while adding shine, volume and controls tangles. Medi-Moist also stimulates and soothes itchy dry scalp and cleanses excess oil.
Recommended to be used after every Medi-Dan Dandruff Treatment Shampoo application. Effectively controls tangles, and adds body and shine to hair.
Features:
Specialized, water-based formula features a unique dual action to treat both hair and scalp:
- For the hair: Moisturizes and conditions. Provides body and volume. Adds shine and controls tangles.
- For the scalp: Medicates and stimulates. Controls itchy and oily scalp.
Oil and wax free. NO greasy build-up or limp, lifeless hair.
A highly effective blend of sixteen organic ingredients which combine to banish dry hair and flaky scalp without the use of oils or waxes.
Blended menthol and peppermint cools, refreshes, stimulates, rejuvenate and medicateds scalp. Counteracts any residual "coal tar" odour left by Medi-Dan Dandruff treatment shampoo.
How to Use: 
After shampooing and towel blotting apply about a quarter size of the product into the hair, combing through for conditioning and massaging into the scalp to relieve itchiness, dry scalp, and remove excess oil.

Tip - If you have a serious dandruff condition, use with Medi-Dan medicated dandruff shampoo.
Main Ingredients:
Water (Aqua), Dicetyldimonium Choloride, Alcohol Denat., Diethylaminnoethyl Stearate, Propylene Glycol (and) Diazolidinyl Urewa (and) Methyl Paraben (and) Propyl Paraben, Sorbitol, Stearyl Alcohol, Cetyl Alcohol, Acetamide MEA (and) Hydrolysed Hair Keratin (and) Cocoyl Sarcosine (and) Wheat Germ Acid (and) Lineolic Acid (and) Sulfur (and) Polysorbate 80 (and) Oleth-10 (and) Simmondsia Chinensis (Jojoba) Seed Oil (and) Tocopherol Acetate (and) Hydrolysed Glycosaminoglycans, Lactic Acid, Menthol, Parfum (Fragrance), Blue 1, Citric Acid.
pH: 4.0-4.5
175ml
---
More from this collection