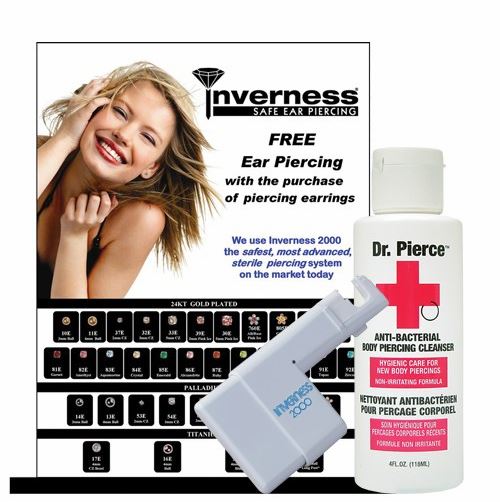 Inverness
Inverness Ear Piercing Intro #1 - 12 Piece Intro Deal
Regular price
$240.00 CAD
Intro is a great way to get started with the safest piercing system available. It has everything you need to get started including free antiseptic.
Offer Includes:
(1) 10c 24k GP 3mm ball
(1) 112c PP AB crystal with rose flower
(1) 120c PP 4mm ball
(1) 13c PP 4mm ball
(1) 17c titanium 4mm crystal bezel
(1) Inverness 2000 Instrument
(1) 32c 24kt GP 3mm CZ
(1) 33c 24k GP 5mm CZ
(1) 37c 24k GP 2mm CZ
(1) 53c PP 2mm CZ
(1) 54c PP 3mm CZ
(1) 760c 24kt GP AB CZ with rose flower
(1) 805c 24kt GP crystal with crystal April
(1) Inverness 2000 demo pack (6 practice training capsules and 3 foam squares)
(1) Release authorization booklet
(2) Surgical markers
(1) Inverness display case
(12) 95644 Dr Pierce 4oz anti bacterial solution
(1) Tent Card
All Inverness Systems are guaranteed sterile until the gas permeable seal is opened or damaged.
There is no other piercing option in the world today that offers all of the individual protections that Inverness products bring to its customers.
Inverness Systems use only "hand pressured" FDA Registered Class 1 Medical Devices to deliver a piercing while eliminating the trauma.
The tip of the piercing post used by all Inverness Systems is honed to a surgical point. Inverness is the only "fully encapsulated" product on the market and prevents the piercing jewellry from being exposed to outside contamination.
---
More from this collection