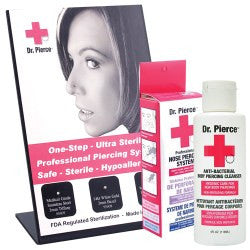 Inverness
Invernesss Dr. Pierce Nose Piercing Intro
Regular price
$155.99 CAD
Safety & Sterility And Inverness 2000...
When you think of Safety, Sterility and Piercing you must also think "INVERNESS"!
There is no other piercing option in the world today that offers all of the individual protections that Inverness products bring to its customers.

 

Inverness Systems use only "hand pressured" FDA Registered Class 1 Medical Devices to deliver a piercing while eliminating the trauma.

 The tip of the piercing post used by all Inverness Systems is honed to a surgical point. ·

Inverness is the only "fully encapsulated" product on the market and prevents the 

piercing jewellry from being exposed to outside contamination.
All Inverness Systems are guaranteed sterile until the gas permeable seal is opened or damaged. 
Inverness System 2000 delivers its sterile, surgical piercing post into a Patented Safety Clutch (earring back).
Use the latest technology that is gentle, safe and patented!  Inverness has made nose piercing simple, with disposable instruments
Intro includes:
- 6 Disposable instruments 
- 6 4oz Antibacterial Solutions 
- 6 Nose bones 
- 1 Surgical marker 
- 1 Release authorization booklet 
- 1 Counter display
---
More from this collection